On May 15, 2020, this interview with the owner and managing director of JSA Europe / Stage Company was published in the online version of the magazine Showmaster. Many thanks to Marina Bagirova / Editor-in-chief of the magazine for this case. That is a great case, as a continuation of the partnership – JSA has a long and good business relationship with a leading Russian professional magazine in our industry sector.
Read the full interview in russian here: Александр Стрижак, компания JSA Europe. О времени и о себе
See the announcement from Marina Bagirova about the interview here: "Showmaster" – discussing show technologies and projects"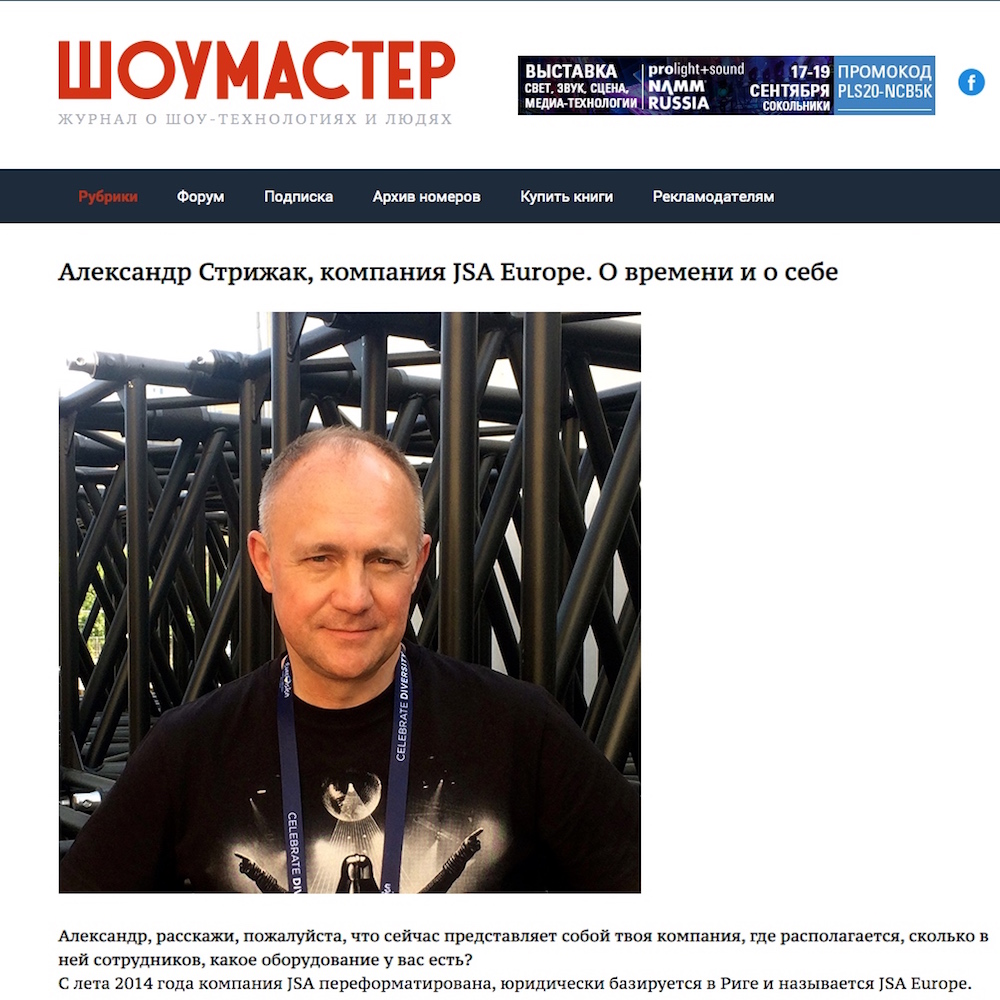 Read this interview in english below:
SM – Alexander, please tell us what about your company is now, where it is located, how many employees are in it, what equipment do you have?
AS – Since the summer of 2014, JSA has been reformatted, legally based in Riga and is called JSA Europe. At the same time, the company's work is not limited to Latvia, the main activity takes place in Ukraine. Constantly the staff consists of several people for the operational management of our activities, on contractual terms – another 10-12 employees.
The main activities are professional consultations on projects, administrative management of the preparation and production part of events, the creation of a stage and technical concept for events. We maintain close liaison with local technical contractors. In particular, since 2018 we are actively working with a large company ArtMax Engineering from Lviv.
We considered it unprofitable to develop our own equipment base. The current situation with the virus crisis has shown the correctness of this policy. Nevertheless, plans to create a new professional stage company JSA remain valid and await their implementation. To successfully enter the European and Ukrainian markets, time was needed and work in this direction was carried out, but now we have to wait.
Since April 2019, JSA Europe has become a partner in the sale of aluminium stage structures by SIXTY82 (Netherlands) in the Baltic countries (Latvia), Ukraine and the right to sell in Russia also. This is a kind of continuation of cooperation since the days of Prolyte. Over the year, we managed to make good progress in this direction, set up advertising, created a customer base, made several good sales in Ukraine, Russia and even in Norway. As long-standing partners, we sell elements of Layher Systems for the stage sector.
At the end of last year, at the invitation of the Karabas group of companies (a major national ticket operator in Ukraine), JSA began resuming activities as promoter for concerts of Western performers. For six months, a working platform was created, a lot of preparatory work was done with the venues, a production team was formed, contacts were established with booking agents, and we started a discussion of contracts.
But, unfortunately, we know what happened in March-April. Now we are waiting for the huge machine of the world show business to digest a lot of cancellations and reschedules of concerts and festivals this year.
SM – List the most interesting projects your company has worked on in recent years?
AS – This is of course Eurovision 2017 in Kyiv, where we made the Hospitality Zone for sponsors, officials and VIP persons of the contest. Festival "Danube Sich" (2017), a large business training forum OLEROM ONE 2018 with the participation of Arnold Schwarzenegger. Last year we worked in projects such as Leopolis Jazz Fest, ZAXIDFEST, festival Faine Misto and at the successful bright premiere of last summer – UNDERHILL European Music Festival.
At the end of last year, together with Asteris Koutoulas from Berlin, a long-time friend of JSA, created a new international interesting project, FLEXODROM. We attracted to it the attention of major German companies Layher GMbH, PRG: Deutschland and GRAFT, as well as Ukrainian companies Arttechnology Creative Lab and ArtMax Engineering. But again, now it is still in the stage of "lethargic sleep" …
SM – Do you have any competition? A lot of projects in Ukraine in principle?
AS – It may be immodest, but we have no competitors. JSA has an unusual formation with many innovative ideas for business and vast experience in the industry. Next year, JSA will be already 25 years old! Of course, in specific cases there is normal business competition, but we do never participate in tenders, we just do our job in a quality.
And if it is a question of how many technical companies are in Ukraine. Yes, enough to serve the existing market volume at a good level. But I think – plus one more company it will be great when the good times for Live Music come.
As for the number of projects in Ukraine, I can say that the country has developed strongly in this direction in recent years. There were more festivals in different regions of the country, and they became larger. Concerts of western performers have become a good permanent reality in Kyiv and not only. The level is growing and becoming a strong and vibrant Ukrainian show business of pop and rock stars. This year, many stadium concerts were planned throughout the country. Unfortunately, this everything has stalled.
SM – What is happening now? Are there any online concerts?
AS – The situation is complicated, like for everyone else, since mass events are the last thing that will be included in the action after quarantine. Europe has the same problem, although governments somewhere and somehow allocate monthly payments to support people and companies.
For example, in the Netherlands, about 3,000 companies and 80,000 qualified employees worked in our field. Now 25% is at risk, and after a couple of months, they predict that all 75% will get there. But I think they will find solutions, where the government communicates reasonably with the business community.
Yes, online concerts take place, but this is not the JSA area and we do not pay much attention to it.
SM – Maybe other formats of speeches that take into account isolation have appeared?
AS – Yes, there are such forms as auto-cinema and auto-concert. It is not new, but well forgotten old, but in the format of social distance. It is a spontaneous reaction to the crisis, inaction, and at least some short temporary movement. How it will work – time will tell. I am a supporter of the positive development of events and naively believe in the soon resumption of concerts. I think, in one form or another, something will already begin by the fall. You can feel it in communication with European partners and in the news in the professional press.
And in Ukraine, there is still a certain tendency towards this. For example, if the major festivals in Kyiv – Atlas Weekend and U-Park , and in Lviv – Leopolis Jazz were postponed to 2021 since this is due to a large number of Western artists, the above-mentioned Underhill Music Festival near Ivano-Frankivsk was postponed to the end of August. And many other festival events are still in the format of the period of this year.
SM – Is there any state support for theaters, musicians, and rental companies in Ukraine?
AS – So far, on this issue – the situation has nothing. I think that theaters get the grants as before. I am not very familiar with this sector. Well, musicians and technical production companies are definitely not. Everyone survives as they can. My opinion is that for a month and a half, everyone accepted the situation as it is. The trouble came to everyone. In addition, in Ukraine, there are no strong special professional platforms uniting companies and people to communicate with the government.
Now, this topic is somehow beginning to manifest itself in our industry, and it's good. On May 12th, we had a very important event – about 100 companies: promoters of concerts and festivals, event agencies, and most importantly, technical companies, held a flash mob – a light show in 20 cities and countries under a common slogan: #StopCulturalQuarantine (#стопкультурнийкарантін). The goal of the action was to attract the attention of the government to a problem of the industry, which was out of their attention, and which is about 250,000 active people, specialists left without work and prospects.
SM – What is your most optimistic forecast for the development of our industry in Ukraine after the pandemic?
AS – It all depends on when it comes to this "after." In an optimistic scenario, for example, after mid-late summer, then everything will begin to develop rapidly with unbridled power. The potential for activity has been enormous; major companies in Ukraine already have experience in overcoming crises over many years of existence.
Emotionally, people will need show business to relieve stress. JSA prepared for the 2020 season, and suddenly this was stopped. But the prepared things have not gone away, everything is ready to start. I think other companies, artists, producers and production have the same condition.
A few days ago, JSA appeared as a "straw" to keep afloat – we got the opportunity to sell the innovative (as we jokingly call it) "corona products" from our partners SIXTY82.
The "Hand Wash" mobile system will be in demand on the market, and I hope  it will help us survive the difficult time.
Some photos from the action #стопкультурнийкарантін / Photos were taken from the promoter of this event – Kyiv Music Days / on their facebook page
Special thanks to Maria Language Training for the translation of this interview.
Here you can see the history of cooperation JSA with magazine SHOWMASTER