April 04, 2000, Moscow, Luzhniki Palace of Sports (capacity: 8500 spectators). The shows in Moscow were part of the Deep Purple World Tour 2000. Promoter and local production by JSA.
This concert caused a huge stir in the public. It was almost impossible to buy tickets three days before the event. In Moscow, after a performance in St. Petersburg, the group gave a great press conference for journalists.
The concert was unique, first of all, because of its duration. Deep Purple fans were absolutely happy. The storm of rock music lasted in the crowded Luzhniki Palace of Sports for 2 hours and 20 minutes.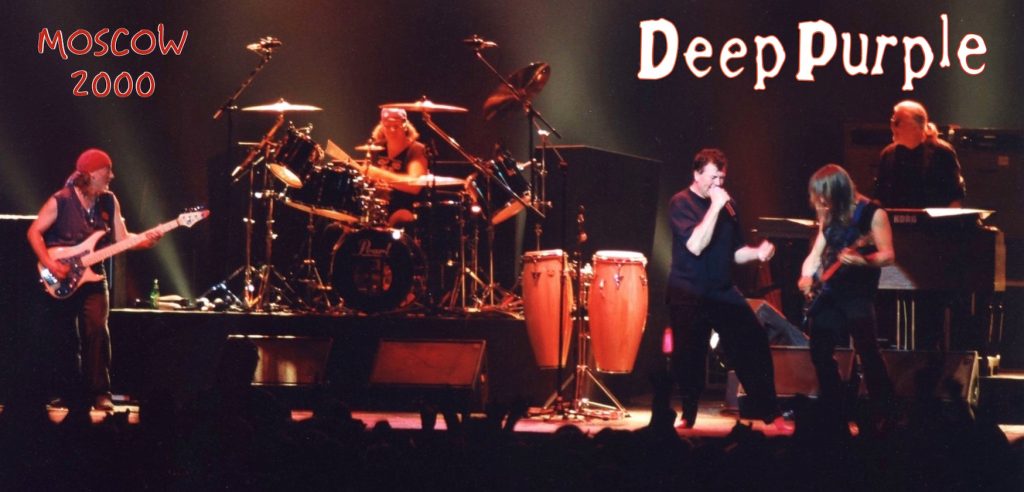 The set list was more than interesting. Particularly noteworthy is "Fools" from the "Fireball" album. This song had never been performed at concerts before and appeared in the program only on this tour.
Woman From Tokyo, Fireball, Into The Fire, Sometimes I Feel Like Screaming, Fools, Smoke On The Water (intro Led Zeppelin, Kinks, etc.), 69 (including – Mule, Paint It Black, Paranoid), Black Night, Watching The Sky, Space Truckin', Any Fule Kno That, Jon's solo, Perfect Strangers, When A Blind Man Cries, Speed King (including – Great Balls of Fire, Blue Suede Shoes), Lazy, Highway Star.
It was the first promoter experience of the company, and JSA had success. Special thanks to Eugene Finkelstein from PMI SHOWfor supporting this project. They did the second concert of the Russian tour in St. Petersburg / on April 07, 200, at Yubileyny Sports Complex (capacity – about 10,000).
Article in the magazine Show Master 2-200-21: Deep Purple – Live in Moscow!
Internet portal Deep-Purple.ru – Concert Deep Purple in Moscow 09.04.2000
Internet portal Deep-Purple.ru – Concert Deep Purple in St. Petersburg 07.04.2000
Note: Two years before this event, JSA was as the local production team for the Deep Purple concert at the Sports Complex Olimpiyskiy in Moscow (capacity: 16,500). The show was on November 21, 1998, as part of the band's European tour in support of the album – A.Band.On (Abandon). The promoter was the agency Moskovit Concert.
Internet portal Deep-Purple.ru – Concert Deep Purple in Moscow 21.11.1998
Version in Russian:
DEEP PURPLE КОНЦЕРТ В МОСКВЕ 2000
© All photos and promo stuff are the copyright of JSA Stage Company.