Three major international outdoor competitions under the auspices of the International Ski Federation (FIS) were held in Moscow on Vorobyovy Gory in early 2009:
– On January 02, 2009, immediately after the New Year celebration, the first parallel slalom competition in this format took place on the World Cup stage.
– On February 14, 2009, on Valentine's Day, the final stage of the Freestyle / Ski Acrobatics World Cup was held.
– On March 07, 2009, on the eve of International Women's Day, the World Cup final in snowboarding was held in the most popular discipline – Big Air.
Especially for these events, at the request of the agency "New League" specializing in sports shows of this type, JSA once again supported the construction of a large temporary Iron Mountain. The ramp structure was assembled from Layher Allround Scaffolding System elements.
In terms of its technical characteristics, this slide corresponded to the best world standards and was somewhat improved compared to last year. The total height was 56 meters (the launch platforms were at different levels depending on the sport), the length of the descent zone was about 150 meters, and the total width of the slope zone was 36 meters.
The installation time of the entire structure took a little over a month. JSA specialists, together with engineers of the Layher plant (Germany), gave solutions on calculations and the creation of drawings for this case. And also, as partners of the Layher plant in Russia, JSA organized a quick and timely delivery of the required Layher product set for this long-term project in Russia.
Part of the structure had to be rebuilt between each competition, for parallel slalom, freestyle, and snowboarding require different take-off and landing angles and kicker blocks.
In addition to the exciting sports show, all the guests of the competition were awaited by bright entertainment music programs – concerts of stars and light and pyrotechnic shows.
ВЕРСИЯ НА РУССКОМ ЯЗЫКЕ:
ТРИ БОЛЬШИХ СОБЫТИЯ НА ОДНОЙ СТАЛЬНОЙ ГОРЕ
СЛАЛОМ, ФРИСТАЙЛ И СНОУБОРД / КУБКИ МИРА – 2009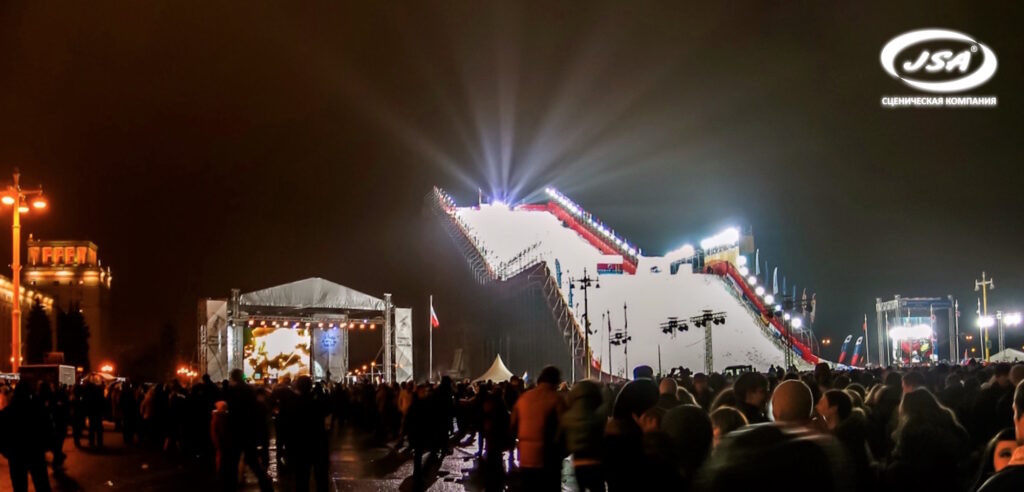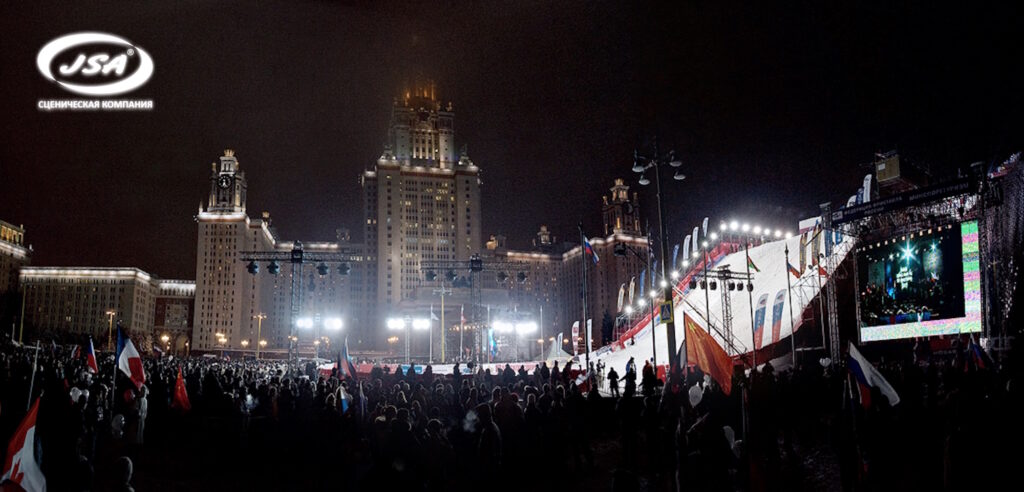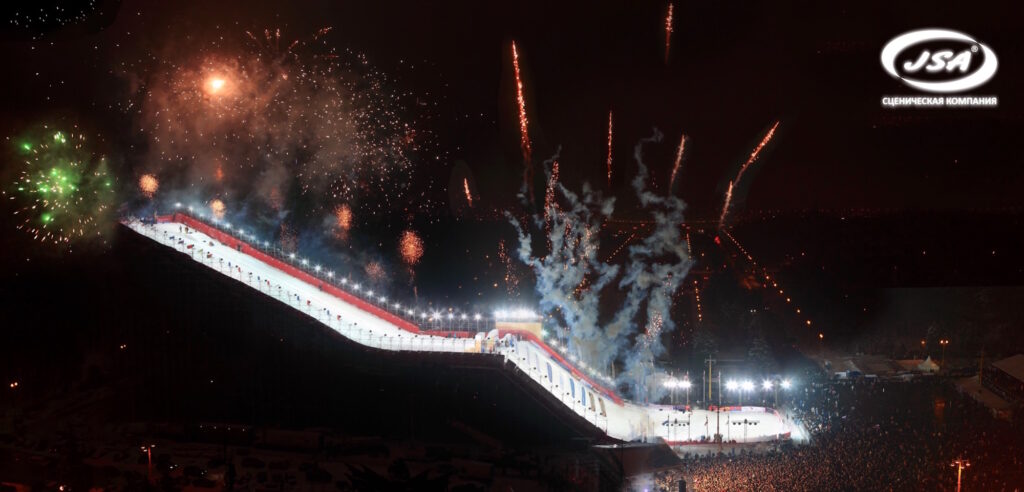 © All photos are the copyright of JSA Stage Company.