In the 2006-2007 winter season, for the first time in history, a public ice skating rink was opened on Red Square in the center of Moscow as a popular entertainment for city residents and guests of the capital. The project was organized by the GUM Shopping Center, the main historical building, which stands directly opposite the Kremlin. This leisure facility became the largest in Europe. The total building area of the complex, including an ice arena, cafes, retail premises, and a rental and service center was almost 3 000 square meters.
JSA was invited as the main technical contractor for the implementation of this unique project at that time. The company designed and installed the podium structure from Layher Allround Scaffolding elements. It was a special leveling platform for installing cooling systems to create and maintain ice cover during the operation of the entire Skating Rink on the Red Square complex. JSA also installed Prolyte trusses towers to suspend lighting fixtures to illuminate the ice rink at night. In addition, JSA helped to create infrastructure facilities.
JSA served special important events that were held at the Skating Rink at certain times during its operation. Such as The Opening and Closing of the Ice Rink, the New Year's Eve and Christmas holidays, the Demonstration performances of figure skaters, the Friendly Hockey Match of Veterans of this sport, the Filming of special TV programs, the Presentation of Sochi as a contender for the capital of the 2014 Olympic Games and many other interesting events. The work of the Skating Rink on Red Square, which has become very popular with the public, began on December 1, 2006, and was completed in mid-March 2007. The idea of ​​such a temporary entertainment object for Muscovites in the very center of the city was repeated in the next winter season.
SHOWMASTER Magazine / 01.2007 (48): ICE RINK ON RED SQUARE
OFFICIAL PRESS RELEASE OF JSA COMPANY (in Russian): JSA INSTALLED THE BASE FOR THE ICE RINK IN THE RED SQUARE
ВЕРСИЯ НА РУССКОМ ЯЗЫКЕ:
ВПЕРВЫЕ ПУБЛИЧНЫЙ КАТОК ГУМ
НА КРАСНОЙ ПЛОЩАДИ В МОСКВЕ
SKATING ON THE RED SQUARE IN MOSCOW
SECOND ICE SEASON NEAR THE KREMLIN
FOR THE FIRST TIME IN SAINT PETERSBURG
BIGGEST ICE RINK IN THE PALACE SQUARE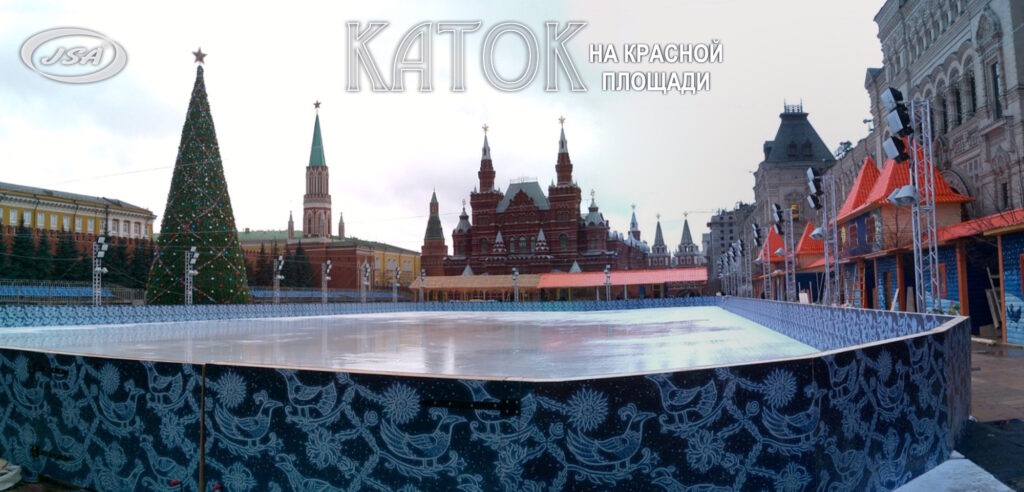 © All photos are the copyright of JSA Stage Company.